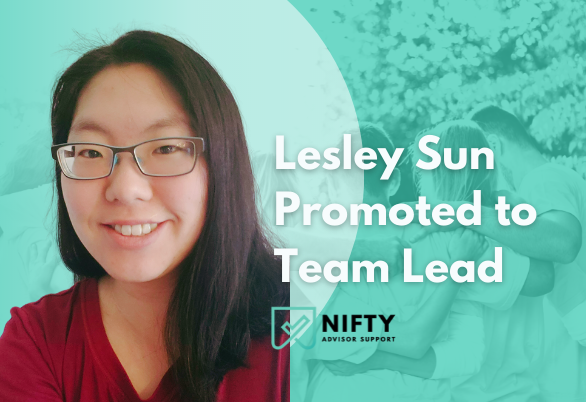 Lesley Sun, CFP® Promoted to Team Lead
We are excited to announce that Lesley Sun has been promoted to the role of the Client Servicing Team Lead as an Industry Operations Analyst. Her new role is to ensure all client servicing team members are well-supported through rapid changes in the fintech and RIA space as each team member works with their Nifty Advisors.
During her two years with Nifty, Lesley has dove headfirst into each and every project and has shown to be an invaluable asset to the Nifty team proving to be an amazing role model to our Client Servicing team and our Nifty Advisors. On top of that, Lesley successfully passed the CFP® exam and requirements during July 2021 cycle and is officially a proud CFP® professional where she will become a valuable mentor to future Nifty CFP® candidates.
Please welcome Lesley onto the Leadership team with Nifty Advisor Support. Congratulations, Lesley!