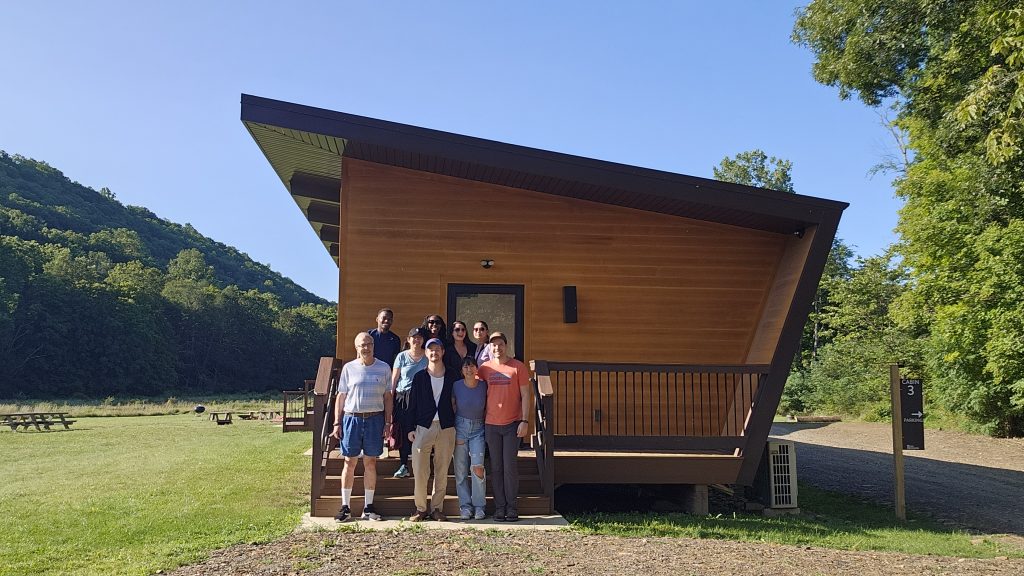 Behind Nifty: 2023 Annual Team Retreat
"Behind Nifty" is a series where we share behind-the-scene moments of what makes our team great. Written by Michelle, Founder/CEO of an amazing team at Nifty Advisor Support.
When it comes to your 2nd team retreat, there comes a bit of anxiety and excitement. Anxiety that you might not be able to meet the expectations of your first retreat, and the excitement that comes from (obviously) finally being able to see your favorite people! We'll dig into what it took to plan our favorite activities and (dare I say) favorite retreat thus far.
Picking the Location
Picking the location can be a bit tricky for a small business. You don't have the funds to rent out a large hotel like a large institution, but you still want your retreat to feel a bit luxurious, special, and intimate. You want to create an event that is worth their time.
While our glamping hostel accommodations were extremely unique (being a hostel dweller myself!), there is something special about hostels I've always loved – the sense of community and comfort I've never felt staying at a fancy hotel or at an AirBnB. Community and comfort being the two things I wanted to incorporate into our retreat.
I, also, wanted our retreat experience to be different from any other company. Not just different in terms of activities and people, but remind them why we are who we are and the power of working remotely. With most of us coming from large cities and working from our own dwellings, getting outside and exploring nature together seemed to just make sense, different, and a bit daring.
Before committing to this crazy, non-conventional idea, I frantically wrote a post in Slack (as I do with all ideas not thoroughly thought out), and the idea of glamping sparked tons of interest. So, I took the risk and made the leap. Of course, I tried to make everyone as comfortable as possible. I gathered dietary restrictions, bed preferences, and preferred shower times so I could plan and make everyone as comfortable as possible so they wouldn't regret spending 24/7 together for 3 days in the middle of nowhere Pennsylvania.
Creating Activities
For an in-person event that only happens once a year, the goal of our team retreat is to social, have fun, and to tap into our heart strings. Anything business I tend to stray away from because my initial reaction is "we can just do that on Zoom". I've always been a firm believer that adults are just big kids, so I try to bring as much wholesomeness to the activities we do together.
Many of the activities I introduce to virtual and in-person events are recycled from work as a non-profit mentor, leader in my sorority, and from my best friend, Google. But, I tend to take activities I've known and tweak them in ways that I feel will resonate more with the group – whether it's for laughs, smiles, or emotional tears.
Three favorites I chose this year included:
Team Timeline – We laid out a bunch of sticky notes on the table and each person had to write three significant events that have happened in their life whether personal or professional, whatever that person is comfortable sharing. You can increase or decrease the number of stickies depending on how big or small your team is. I got up and asked, "Who believes they had an event in the earliest year?" and we drew a timeline on the board starting with the earliest year up until 2023. We called out each year and each person got up, read their sticky, told their story, and how it affected their life. It was the best activity we've done as a team giving us the ability to vulnerable moments we wouldn't have been able to share otherwise, while also making connections with those who have had similar experiences.
Meyer Briggs Connection – Being someone who nerds out about personality types and analyzing people's behaviors, having everyone share and understand their Meyer Briggs type sparked insight and conversations that would've been difficult to do remotely. We all took 10 minutes to take the test and went around the table to discuss. Afterwards, we moved into groups depending on your department and discussed similarities or differences in terms of how you worked together.
Nifty at Night – The difference between a retreat at a hotel versus glamping in the middle of nowhere… is that there is absolutely nothing to do, but everything to create. On Thursday night, we decided to create an outdoor party called "Nifty at Night!". But, what is there better to do then adding some LED fashionwear to the mix? Gathered around the campfire with first-time campers and s'more makers, we brought the kid out of everyone with some sweet treats, limbo, and cool dance moves!
In addition to playing Hot Takes, choosing meme stickers, making friendship bracelets, hiking, and sunbathing, it was a fun-filled packed week that you would've forgotten that you're in the forest. I didn't even do two of my planned activities because I wanted to let the conversations and schedule flow naturally so everyone had time to make genuine, natural connections.
Selecting Swag
Aside from choosing a location, swag is probably the most difficult depending on your budget. Being a small business, the comparison between us and large wealthy firms giving out iPads, free trips, and clothing on an ongoing basis is not feasible for me. But, what does count is the ability to make your swag fun and intentional.
Choose a swag theme based on the location of your retreat. I'm not a huge gift giver or lover of cheap freebies with minimal purpose, so I tend to gravitate towards practical, high quality gifts. For this retreat, I chose a camping theme so I included portable backpacks, branded Nifty hiking mugs, and stickers.
Non-branded items are okay! As a company, we tend to think that everything we give away has to be branded which tends to be more costly. While one branded item is recommended (for a personalized touch!), I believe the quality is more important.
Save bulk items for future use. Most custom items are purchased in bulk. Save on costs and use those items for future employees, current or future clients, or for those could not attend retreat this year! I bought 100 branded reusable bags because it was cheaper per bag and they were practical for any use. Avoid one-time use items.
Building Hype!
Depending on your team culture, you may feel nervous or uneasy as the leader of your organization. The one thing I know is that I tend to over plan even though I don't even consider myself a Type-A planner. My planning style has always been plan enough with the proper times, but be generous and adaptable. Set the skeleton, but let the heart lead.
With the hours of planning you've put into your team retreat, it's important to be very thorough and transparent about communication. Communication can either make or break a team retreat. This can include:
Pre-registration form (with drafted registration packet) with contact information, emergency information, and dietary restrictions
Registration packet (tentative schedule, rules, packing list, room/bed assignments, frequently asked questions, travel details, shopping list, volunteer list and responsibilities, which events are mandatory events or team events and which events can guests attend)
Final registration form that includes individual travel details
When You Arrive email
Private Messaging Channel for attendees
Event and COVID-16 Liability Waiver
A (social) team retreat is the best thing you can do for you, your team culture, and everyone's mental health. While it's hard to capture all of the details in one blog post, our team retreat is a major contributor to the culture of our organization to create a sense of belonging. When I speak to clients, it's difficult to explain the work and heart that goes into our team retreat every year, but even if it's only for a day, the smallest actions can create the biggest memories.
Your primary goal is to make your team retreat truly unique compared to any other organization. Dig deep into what makes your team special – not what they deliver to clients (let's avoid business!), but how they present themselves as people.
"But, Michelle, what are the cons of hosting a team retreat?" Post-team retreat depression.