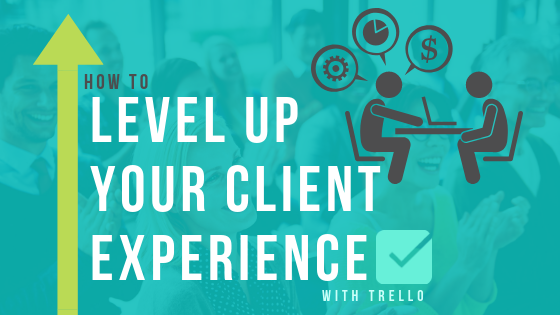 How Trello Can Level Up Your Client Experience
For the solo financial advisor and small RIA, your number one priority is to deliver a five-star experience every time you service your clients. Depending on what services you offer and how many clients you work with, you can probably admit that delivering a consistent, high-level of service is not always easy or automatic.
Why is this not easy or automatic, you ask?
The answer is simple. You are not as organized as you need to be in order to consistently provide a five-star experience for every prospect, client, or team member you engage with.
Because a financial advisor's duties range from processing new account paperwork, working on a financial plan, meeting with clients, writing a blog article, researching, networking, addressing emergency client requests, and so on – it is not a surprise that things can fall between the cracks. Your idea of being organized is by consistently having thousands of CRM notes, email threads, hand-written notes on a pad, colored sticky notes, an excel-made task tracker, etc. – that you anxiously go back and forth between windows with no real progress. Overtime, you realize your method is inefficient and is continuously slowing you down when you realize your method of organization becomes a project to organize versus actually organizing a project!
For those who want to provide a level of service to their clients that makes them rant and rave about you (or your firm), we'd like to share a free technology tool that is a game-changer. That game-changer is Trello!
At the most basic level, Trello is a project management tool that allows you to organize and prioritize all of the tasks, projects, and to-do's that are on your plate, while allowing you to customize and collaborate internally within your firm, with business partners, and even clients!
---
Here's an example of what Trello looks like: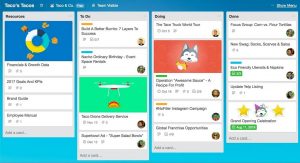 A new Trello board is like a clean slate, ready to organize any of your life's projects.

A board represents a project or a place to keep track of information. Whether you are launching a new website, creating an employee manual, or planning a vacation, a Trello board is the place to organize your tasks as cards on lists and collaborate with your colleagues, family, or friends.

Lists keep cards organized in their various stages of progress. They can be used to create a workflow where cards are moved across lists from start to finish, or simply act as a place to keep track of ideas and information. There's no limit to the number of lists you can add to a board.

The fundamental unit of a board is a card. Cards are used to represent tasks and ideas. A card can be something that needs to get done, like a blog post to be written, or something that needs to be remembered, like company vacation policies. Drag and drop cards across lists to show progress. There's no limit to the number of cards you can add to a board.
*The above description was taken from the Boards Basic page at Trello.com
---
Without nerding out too much, here are four ways how Trello can help level up your client experience:
Trello For Managing Client To-Do's And Showing Your Value
What if your client experience became more collaborative, engaging, fun, transparent, and tech-driven? Your clients would probably love it and it would make your job much easier. Trello can help you get there!These are two pain points that we commonly hear from advisors:(1) "Sometimes I have to pull teeth in order to get documents back or "to-do's" done from clients", &
(2) "It is hard for clients to realize and see all of what goes in to the service we offer."Problem number (1) is solved by creating a Trello Board for that individual client/household, segmenting the lists appropriately, and then assigning tasks (or cards) to the client. Say goodbye to multiple follow-ups via email! With Trello, the client will get notified when a task is assigned to them and they can view the assigned task on their laptop or the Trello app.Problem number (2) can also be solved by Trello. Because you are creating individual boards for your clients, you can literally have a living and breathing board that shows everything that you and your firm have done for the client, what is coming up, and all of the tasks that the client has accomplished. After a year of consistently using Trello for the client lifecycle, it will be very easy to tangibly show all of the value that you bring to their hectic lives!Still aren't sold? Don't take my word for it, but hear it from two very successful financial planners that use Trello with their clients:Anjali Jariwala on The Financial Advisor Success Podcast with Michael Kitces
Mary Beth Storjohann on The Financial Advisor Success Podcast with Michael Kitces
Trello For Collaborating Internally Within Your Firm
Depending on the size of your firm, Trello can be very helpful when working in teams. Let's take the example of simply preparing for the final meeting with an ideal prospect where you are to present the financial plan. Leading up to that day, your admin and paraplanner may have several tasks to complete before you actually meet with the client. By having a client-specific board, where their entire planning process tasks are being document and assigned – you have a much better pulse on what is getting done, needs to get done, and what you are responsible for.There are many other ways to get creative here, and it does not have to be strictly for clients. For example, you can create a board that is specific to your marketing plan and new ideas. Trello is all about sharing ideas and collaborating!
Trello For Personal/Individual Project Management
Transparency between your professional and personal life is important, especially if you are a solopreneur where your business is your life. In addition to client and department-related boards, you can also have your own personal board that can be your one-stop shop for all of your to-do's. You can organize it in any way you like and use it as a personal task or project list. At Nifty, we love lists. But, what's better than lists? Organized lists such as using cards and boards with Trello.
Trello For Collaborating With Business Partners
Because you can invite others to Trello that are outside of your firm, this is a great tool for working on projects with business partners – especially if your business partners work remotely or travel often. For example, you may work with a firm like Nifty to get your blog posts written, virtual paraplanning done, etc. Instead of just email exchanges, you can have your own virtual space where projects/tasks are assigned, and progress can be tracked.
---
Hopefully, this article provides some insight and ideas on how Trello can help you and your firm when it comes to project management, client management, organization, and collaboration. While you still need a CRM, we highly recommend Trello to compliment how you stay on top of all that you do.
By using Trello in the four ways described above, your client experience will stay organized and your relationships will drastically improve.
If you have any further questions on Trello, or would like to learn more about how Nifty can help you stay organized, do not hesitate to contact us!
Stay nifty,
Nifty Advisor Support