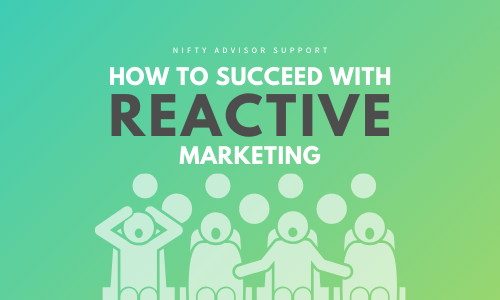 How to Succeed with Reactive Marketing
Reactive marketing gives the perfect leverage to any marketing strategy (if it's done right). Without it, you lose the opportunity to build trust and demonstrate your expertise to prospects and clients in their biggest times of need.
Your marketing strategy most likely consists of both proactive and reactive marketing.
Proactive marketing is the implementation of prepared marketing strategy campaigns, while reactive marketing is when you implement marketing without a plan based on an opportunity or a certain event.
Have you sent a newsletter to calm the client's nerves during a market crash? Did you publish a new video explaining the Payroll Protection Program and the government's deadline to submit? Did you create a last-minute email campaign to your client base once you received an email from a nervous client who is about to retire?
While reactive marketing allows you to address emotional triggers with your clients, read below about what you should do before you implement too quickly, and fail to see any return.
1. Remember to plan.
Every business decision you make should have a goal and be intentional. Even though you're creating an event-based campaign, you should prepare to invest the money and time it takes to create an effective reactive marketing strategy.
You should answer "yes" to all of these questions.
Does your message have a clear business goal?
Does your message directly address a problem?
Have you not already addressed this problem recently?
Is the message relevant to your ideal client?
Is it clear how the audience should engage with your content?
Will this effort benefit the growth in your relationships in the long-term?
Does this effort align with your long term business goals?
Asking yourself these questions will ensure your reactive marketing strategy is effective and clear.
2. Measure the outcome.
When you implement a strategy, you need a metric that identifies success when setting a goal. Similar to points in a basketball game, you need a measurement that accurately identifies your input and output and how you define success and failure.
Here are a few examples of goals and metrics.
Brand awareness (increase views and awareness that your business exists): Number of clicks to your website or number of viewers who watched your video
Lead generation (opt-in to collect learn more about you): Number of calls, appointments made, or new email list subscribers
Sales (increase conversion rate): Amount of revenue or number of new clients
3. Never dismiss the costs.
Digital marketing is similar to financial planning where it is both an art and a science. The perfect blend between the two allows room for innovation and intention when deciding the tools and time to create your marketing strategy.
Whichever strategy you idealize, digital marketing is never a one-size-fits-all solution. Solutions need to be tailored to the size of your business, your target audience, and the tools you have in place. With this in mind, marketing tools are usually tailored to different business sizes and pricing models.
Before pulling out your credit card, ask yourself these three questions.
Do I currently have a tool that already does this for me?
Am I choosing a new tool because I need to?
Have I already explored/learned about my existing tools?
Will this tool save me time and money over the long term?
What do I hope to be the return of investment?
Can I be creative with my existing tools that will accomplish the same goal?
4. Be proactive with reactive.
Everything about reactive marketing doesn't have to feel spontaneous and stressful. The importance of marketing processes and development is key when you need to reactively create communication.
When you develop templates for videos, emails, or deliverables, you minimize the amount of time you spend on creating communication in your already busy work schedule. In addition, when you develop a creative process, it allows you to think freely without worrying about implementation. Learn how Nifty helps advisors create templates and processes to help streamline their marketing needs.
While being proactive and creating an ongoing marketing plan is a requirement to succeed, reactive marketing can also be done successfully with the proper plan, measurements, and tools. Is your marketing process prepared for reactive content? How will you set the stage to bring the most value to you and your audience?