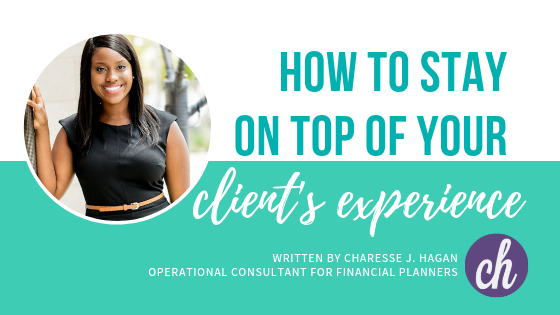 How To Stay On Top Of Your Client's Experience
Advisors should make the most of their time by creating a system to help stay on top of their clients' experience. Every client's financial situation is different so nail down your current or ideal processes to help streamline the operations to focus on the client relationship.
Here are my top 3 recommendations to help you stay on top of your client experience:
Effortlessly Engage With Prospects
Most CRMs offer methods to manage prospective clients. With Redtail and Wealthbox being the most popular with my clients, I always recommend using the opportunity feature to maintain their existing prospects. Typically, CRMs track prospects by using a sales pipeline within the opportunities feature. Once your prospect completes the sales pipeline (or stages), you are able to close out the pipeline by selecting "Lost" or "Won". With the outcomes of the sales engagement being tracked, you are able to see your conversion rates for incoming prospective clients. One of my favorite features within the opportunities tab is the expected fee amount. You are able to input the fee you quoted each prospect. The system totals this amount for you to see the total amount of potential business. This is a great tool to help motivate you to stay on top of your sales pipeline process.
For prospective clients, you should create an opportunity and assign each of them to an appropriate milestone or stage within the sales pipeline. In addition to this, advisors should track their follow-up process for prospects. For example, this may be 3 – 4 follow-ups which have weekly reminders. This is when you want to utilize workflow templates as a reminder to connect with your prospective clients who are active in the sales process. This varies depending on the firm's process. I'd recommend speaking with a sales consulting professional to help achieve your sales goals.
Take Advantage Of The Metrics
The client onboarding process is always a big hurdle. Throughout the process, advisors and their team members are collecting financial data, opening new accounts, getting new clients et up in the financial portal, etc. In addition to these onboarding steps, we have to consider tracking client metrics to service the client properly. Depending on the client service offering, you may need to renew agreements annually, add the client to a meeting cycle, or track the client's employment status for tax season checklists. A few things to track upfront are signed fee agreement, when you plan to meet with the client, the service offering they are in, and last activity date. By tracking these key metrics you are able to create reports to make this process more streamlined in the future.
Increase Client Impact With Your CRM Data
The reports feature within CRMs eliminates tracking your clients within a spreadsheet (or helps you begin to track your clients). The only way the reports feature will work is if the system has metrics to report on. I get a lot of questions about how to better track clients who are going through the financial planning process. The reports feature within CRMs is a great way to track your clients' key metrics. Most CRMs allow you to customize your reporting outputs. Here are a few key metrics to help you get started:
Last Activity Date – This will give you an idea of how long it has been since you engaged with the client. This can be emails, meetings, etc. I typically see CRMs tracking this information automatically if your email is syncing into the system and meetings are added as well.
Client Since – This field is used to track the longevity of your clients.
Tags (optional) – This can vary. You can use tag groups to email blast a certain demographic of your client base (i.e. medical professionals, retirees, young professionals, business owners) – if you find information that is specific to the demographic the tag with help you filter your client base and allow you to global communicate with your clients.
Signed Fee Agreement – This field is used to track when the client signed their last agreement. This should be used to ensure signed client service agreements are up-to-date.
Active/Inactive – This field will show you all clients who are active and inactive. Sometimes, advisors will use a "Past Client" field rather than "Inactive".
Most CRMs have automated the processes above to help you focus on other components of your business. All it takes is doing the upfront work then the system does the rest!
For more information about Charesse and her services, visit www.charessehagan.com –