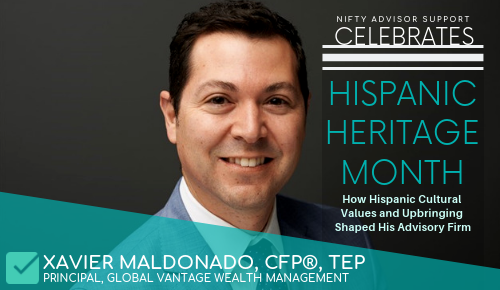 [Celebrate] Celebrating Hispanic Heritage Month featuring Xavier Maldonado
Xavier Maldonado, CFP®, TEP, Principal of Global Vantage Wealth Management, benefited greatly from his Hispanic family roots while traveling between San Diego, California and Tijuana, Mexico. Due to his cross-border exposure, Xavier's interests lie heavily in cross-border financial planning as a niche that was undervalued not only because of general lack of attention, but due to Hispanic cultural and language barriers. Michelle Wong, from Nifty Advisor Support, was honored to meet with Xavier to share his industry path as well as how cultural differences between Hispanic and American culture affected his mindset and how he chose to serve his clients.
In an industry that struggles with diversity, Xavier started like many other financial advisors with a traditional broker-dealer and, not surprisingly, was one of the very few minorities in his office. But with his exposure to various people of different backgrounds outside of work, his everyday surroundings taught Xavier the necessary skills to easily adapt to others with a continuing desire to learn about those around him. As his career grew, Xavier naturally gravitated towards helping international clients due to his personal history and with a realization that cross-border families were not being served. Since there were a lack of advisors who served this niche market, it was difficult for Xavier to find the right mentorship that aligned around the type of education he would have needed to succeed in order to properly serve these families.
One challenge that didn't pose a threat was being able to communicate with the Hispanic community. With Xavier being the first Spanish-speaking CERTIFIED FINANCIAL PLANNER™ professional in San Diego, he used his heritage as a way to connect deeply with hispanic clients that other advisors were not able to do.
"I was the first Spanish speaking CFP in all of San Diego… If you think of the demographics of San Diego and the Spanish speaking community, to be one of the first bilingual CFPs..I was like 'Really? There's nobody else?' It took me a little by surprise. And, I said – hey, there's a real opportunity here. To be able to help and bring value because it's an underserved community."
Our cultural background plays a huge role both throughout our lives and within our lives. From our political views, our personal values, our daily habits and even the food we eat, our background encompasses who we are and how we live. With Xavier's family stemming from San Diego to Spain and Mexico, Xavier has had the opportunity to develop relationships in various Spanish speaking communities not only within the states, but in cross-border communities where local financial and economic conditions vary.
"On my mother's side, my family has been in the San Diego-Tijuana area for over 100 years. My family has always owned homes both in San Diego and Tijuana dating back into the early 1900s… It was unique in a way. Tijuana back in the 1900s was such a small town and seeing the community boom over time was amazing."
The core of hispanic culture lies on the importance of family. In comparison to American culture that encourages independence away from home, traditional hispanic culture notes expressing gratitude by having multiple generations live and care for each other underneath the same roof. While knowing that different generations need different levels of care, we discussed how to care and communicate with first generation immigrants on the importance of financial planning and the resources available within the states. With any first generation minority, there is always a preference for them to converse in their native language. With the ability to communicate to a hispanic prospect or client in their native tongue, Xavier agrees that aside from solely using language as a method of communication – it also allows Xavier to easily build trust between himself and his clients.
"Language and culture is important especially with first generation immigrants.. this goes with any first generation immigrant – they are going to be skeptical. Everything is new to them. Financial systems, banking, credit cards, loans! That's one of the major reasons first generation immigrants are preyed upon and why there's so much fraud. People prey on them when they're the ones that need the most help."
Another notable variance between between American and Hispanic culture is how business is conducted and how a prospect is approached.
"First, we'll go to a 2-3 hour lunch and it's just a 'get to know you'. It reminds me of doing business meetings back in the 50s and 60s – where people have a drink getting to know the prospect.. and then the next meeting, you start talking about business. Now, here in the U.S. it's business first. They go in saying 'Hey – How're doing? How can I help?'" –
When Xavier decided to start his own financial planning firm, it didn't come as a surprise to him or his friends and family. Entrepreneurship was in his blood.
"My family comes from a background of entrepreneurs. Father, uncles, grandfathers. One of the first people I told was my Dad and he was excited for me. He had a lot of advice from day one. He always said "Watch your overhead! Make sure people don't hire you just because you have a great corner office! Don't let your overhead stress you out over the first couple years! He was very open and excited for me. But, my worry was 'would the hispanic community be receptive to financial planning?' even though the need was definitely there."
"My family owned a textile manufacturing company in the US. Starting at 10 years old, I would spend several weeks during the Summer with my Dad. During the Summer.. there I was.. just filing things! You learn good work ethic when you're young! To have faith, to have a vision, and to believe in your vision!"
We asked Xavier what advice he would give for someone of Hispanic descent who is thinking about joining or is currently in the wealth management industry: "There are so many areas you can be a specialist in. What are you strengths? Do you like working with people? Are you good being face-to-face with clients? Do you actually want to be the one working with clients..?.. Or, would you like being on the operations side of the business? ..really be in the internal operations? If you're specifically working with the hispanic community, there is a huge need! It's there. If you're in the hispanic community, what are the issues? What are the issues you want to address? Hispanic millennials? Businesses? Family businesses? Are they passing their family business to millennials? There are many key issues."
Both Xavier and I agreed that, traditionally, you may have needed a financial background to join the wealth management industry. But, due to the industry being a relationship-based business, soft skills are highly valued and having a non-financial background helps you develop personal relationships with specific niches that other financial advisors may not be aware of or be educated on.
"There are so many strengths outside of finance. Being able to relate to people. Being able to be empathetic. Being able to understand. Maybe, 10 years ago when I first started I would've said 'yes'. But now, I've been able to see other types of advisors that didn't have a financial background. I saw their strengths and how they add so much value."
Nifty Advisor Support sincerely thanks Xavier for showing us the value behind serving the Hispanic community and how his background provides unique insight into his culture and planning practice as a minority and Spanish speaking financial advisor.
Nifty will continue to feature minority professionals in the wealth management industry as a conscious effort to encourage inclusion and diversity within the profession. We look forward to sharing other amazing industry professionals, like Xavier, with you in future articles.