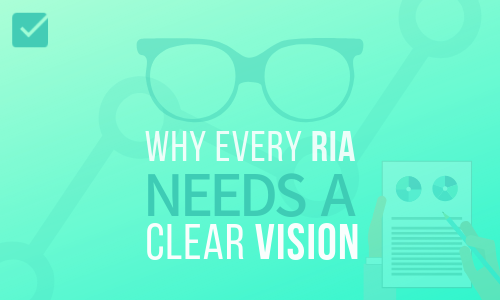 Why Every RIA Needs A Clear Vision
Michael Kitces recently interviewed Stephanie Bogan (Limitless Advisor Coaching Program) on The Financial Advisor Success Podcast. If you have not listened to it yet, we strongly recommend this one. You can find it here, and you will not be sorry!
While there are tons of practice management wisdom and advice in this interview, we really wanted to reiterate and expand on one specific topic – VISION.
Stephanie makes a great statement:
When your vision is clear, your decisions are easy.
This statement is important to ingrain in your mind whether you are running a solo practice or leading the way in a small RIA. Oftentimes we let the "survival mode" mindset of just getting through the days, working with any client that comes through our doors, and offering one-off services/experiences to our prospects and clients. Eventually we allow our practice to survive in a hectic state, where it seems like we are always chasing our tail and avoiding making decisions.
Part of the reason for allowing this to manifest itself is because (1) we get caught up in the "busy-ness" of the day-to-day or (2) we simply do not dedicate time for "working on the business" (as described in The E-Myth Revisted by Michael E. Gerber).
The reason why having a clear vision is important is because once you have a clear vision, you are able to reverse engineer the specific outcome that you want for your firm. In this way, by becoming clear on what you want to build towards for your practice, it will become much easier to make decisions when it comes to how you charge clients, what services you offer, hiring needs, what your client experience looks like, technology stack, etc.
One common issue that we often hear about solo or RIA practices is similar to the phenomena described below from the book, Traction by Gino Wickman in his chapter on vision:
There ended up being many reasons, but the key factor was that the company had no central vision. It was providing three very different services to the market, and because people had to change hats up to several times an hour to cater to different clients, the internal operations were needlessly complex.
Too often, we try to offer everything to a client without a clear process in place. This leads to inefficiencies, bad outcomes, and ultimately little clarity around what it is that we do as a firm for prospects, clients, and our staff.
Instead of having no central vision, what if you had a laser-focused vision that you lived and died by as a firm? You probably wouldn't be a fit for every client that walked down the street, but instead you would actually attract the clients that you wanted to work with. Wouldn't that be awesome? We think that it is possible once you have a clear vision in place.
If you have not created a vision for your practice, we highly recommend that you take the time to do so. It may take some dedicated hours and mental capacity to fully flush it out, but we guarantee you that it will be worth it. As financial planners, the world is your oyster. You have the ability to be creative at arms reach to provide a custom and unique service offering for your clients that other advisors could only dream of. This should be a blend of (1) your own personality, beliefs, interests, and expertise, (2) what you believe your clients would value, enjoy, and want, and (3) a strive to go beyond the industry standard for the best interest of your clients.
By taking the time to create a vision, all of your future decisions will be able to be made with ease. You will know if a decision is right or makes sense, because it authentically aligns with your vision.
We hope this discussion nudges you in the right direction towards creating a clear vision for your practice. We mentioned two books above that we highly recommend if you are seeking a deeper dive into creating a vision for your practice. Just in case, here they are:
As always, if you have any questions about anything discussed in this post, please feel free to contact Nifty.